Maquinaria Festival 2011
Club Hípico - Santiago
12-11-2011 al 13-11-2011
Música
Maquinaria Festival 2011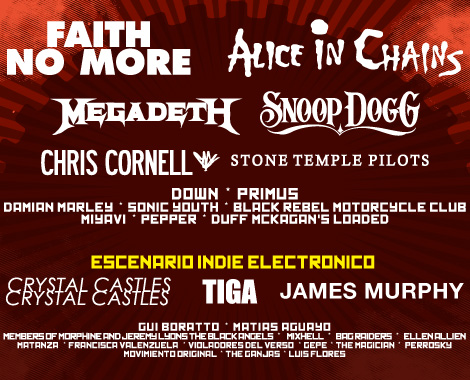 Line Up Final Maquinaria 2011
Headliners: Faith no More, Alice in Chains, Chris Cornell, Stone Temple Pilots, Snoop Dogg, Megadeth.
Main Stage: Primus, Sonic Youth, Down, Damian Marley, Black Rebel Motorcycle Club, Miyavi, Pepper, Duff McKagan´s Loaded.
Stage Indie–Electrónico: Crystal Castles, TIGA, James Murphy, Gui Boratto, Matías Aguayo, Members of Morphine and Jeremy Lyons, The Black Angels, Mixhell, Bag Raiders, Ellen Allien, Matanza, Francisca Valenzuela, Violadores del Verso, Gepe, The Magician, Perrosky, Movimiento Original, The Ganjas y Luis Flores.
SÁBADO 12 DE NOVIEMBRE
ALICE IN CHAINS,FAITH NO MORE, CHRIS CORNELL, MEGADETH, DOWN, BLACK REBEL MOTORCYCLE CLUB, PEPPER, DUFF MCKAGAN'S LOADED, MATÍAS AGUAYO, BAG RAIDERS, MIXHELL, THE MAGICIAN, THA BLACK ANGELS, PERROSKY, MATANZA, THE GANJAS, LUIS FLORES
DOMINGO 13 DE NOVIEMBRE
STONE TEMPLE PILOTS, SNOOP DOGG, PRIMUS, SONIC YOUTH, CRYSTAL CASTLES, DAMIAN JR. GONG MARLEY, MIYAVI, VIOLADORES DEL VERSO, TIGA, GUI BORATTO, MEMBERS OF MORPHINE AND JEREMY LYONS, ELLEN ALLIEN, JAMES MURPHY, SOJA, MOVIMIENTO ORIGINAL, FRANCISCA VALENZUELA, GEPE
Servicios VIP
· Área lounge con servicios exclusivos.
· Área chill out.
· Las marcas que participarán del festival tendrán diferentes sorpresas.
· Terrazas con actividades continuas.
· Degustaciones de comida y bebida.
· Área de baños clase elite.
· Regalo polera oficial del festival.
· Sorteos exclusivos para participar en los meet and greet de las bandas.
· Sorteos exclusivos de poleras autografiadas de las bandas.
Más info: www.maquinariafestival.cl